Automated Videoing Assistant
Regular price
Sale price
£95.00
Unit price
per
Sale
Sold out
This product is an upgrade package for owners of the AVA N20 product. Owners of the AVA N20 can upgrade to the AVA Suite package that includes the following items as part of the upgrade:
* The EyeSite Attachment Module
* The Tablet Holder Mount
* The AVA Travel Case
PLEASE NOTE: This item is only of use for owners of the AVA N20 device as this upgrade will not work independently of the AVA device. For any questions, please contact us via this website.
Share
View full details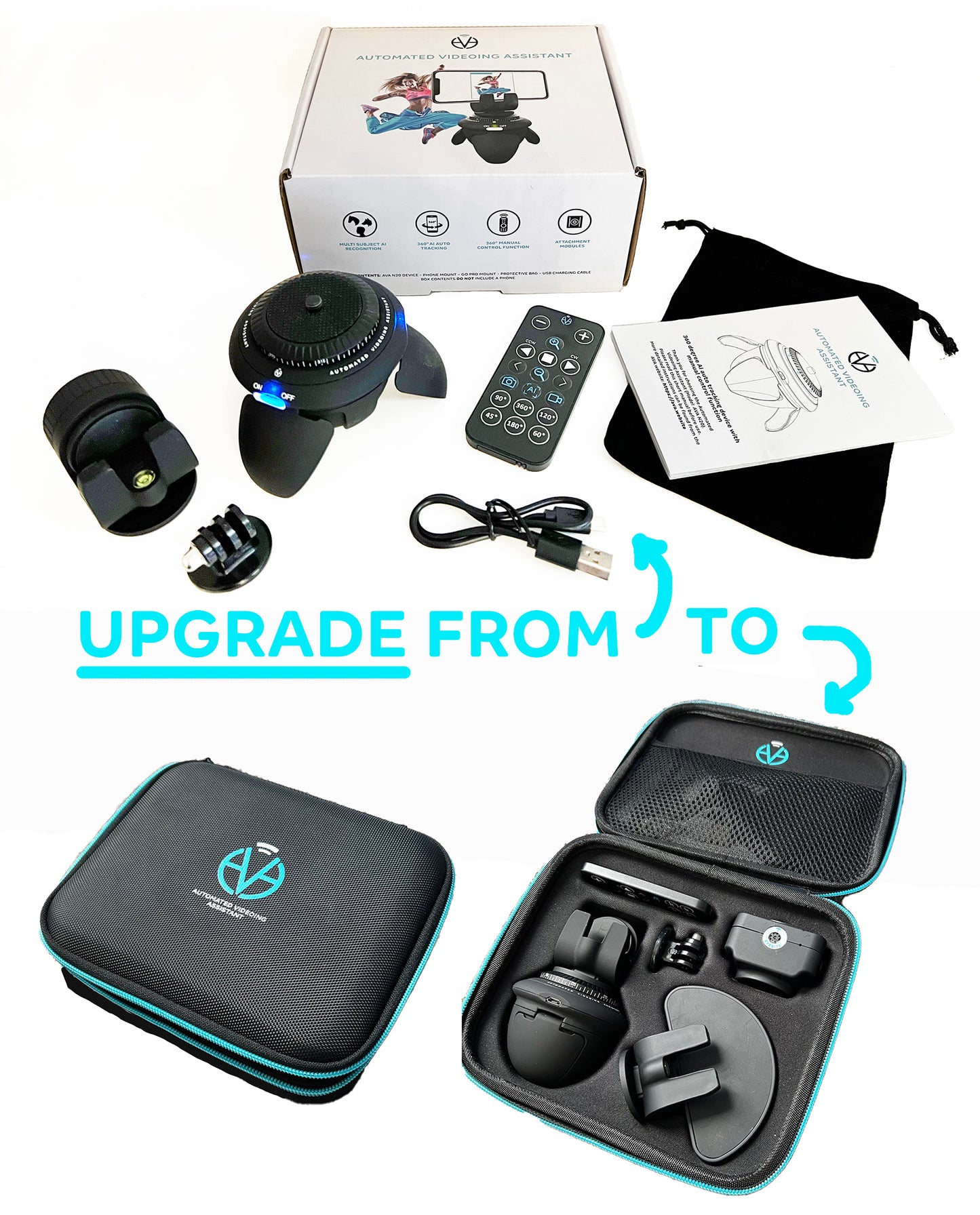 Highlights of the AVA N20 include..
Highlights

- AI Auto-Tracking across multiple different tracking subjects = Face, Person, Horse, Dog, Sports Ball, Bicycle.

- Manual control function with included IR Remote Control or an via an Apple Watch App (AVA Hub).

- Toggle between auto-tracking and manual function.

- Super Smooth movement due to 250 speed capability (from 3sec - 24 hours for a rotation).
Specifications

- Model: AVA N20

- Dimensions: 64mm (H) / 72mm (Di)

- Stand-by Time: Over 12hrs

- Continuous Working Time: Over 9hrs

- Rotational Speed: 3sec-24hrs rotation

- Nominal Voltage: 3.7 V

- Max No-load Current: 65mA Max

- Battery Capacity: 750 mAh

- Bluetooth Version: BLE 5.

- Charging: Micro-USB

- Level Max. Load: Within 1kg

- Tilt Max. Load: Within 400kg

- Vertical Max. Load: Within 300g

- Inverted Max Load: Within 300g
What's In the Box

- AVA N20 device

- IR Remote (battery included)

- Phone Mount

- GoPro Mount

- Micro-USB Charger

- Protective Bag

- Instruction Leaflet